Tolkien Society Meeting Saturday 1:00 pm July 3, 2010
by Hawke —
published

Jul 02, 2010 05:35 PM,
last modified

Jun 09, 2015 03:24 AM
Due to various schedule conflicts, we are having the monthly meeting this July 3rd, Saturday 1:00 pm to 4:00 pm, at the north Service Station Coffee House. Please come join in the discussions. And RSVP for Tolkien Moot Convention ASAP.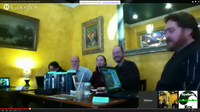 Please come join us in discussion of all things Tolkien and Tolkien-related at the next Inland Empire Tolkien Society Smial meeting at the North Spokane Service Station Coffee House from 1:00 pm to 3:00 pm.

The Service Station Northside Coffee House:
9315 N. Nevada St.
Spokane, WA, USA
99218
http://www.theservicestation.org/contact.php

We hope to see you there!

Join the email discussion list, or post in the forums to get updates on upcoming meetings and other events, or for general Tolkien related discussion.

Join the email list by sending a blank email to:

list-subscribe@tolkienscholars.org

Then watch for a verification email and reply to it.

To post to the list after you are subscribed, simply send to:

list@tolkienscholars.org

and everyone on the list will see your email.

 Also be sure to RSVP for Tolkien Moot 2010 (August 13-15) ASAP before the last few seats are full.

www.tolkienmoot.org

 

Namarie!

Hawke