Eä Tolkien Society January 2016 Meeting Notes
by Hawke —
published

Jan 09, 2016 05:25 PM,
last modified

Jan 09, 2016 05:25 PM
Many thanks to Brian, our Smial Secretary, for this month's meeting notes...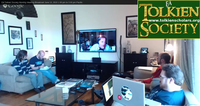 Jan 9, 2015
Ea Tolkien Society
Attending: Hawke, Chris, Brian, Corey, Brandon Young online, RB partway
HR opened meeting, welcomed all. Showed Amon Hen 256 & Mallorn magazine 56. Overview of what we do at Tolkien Society in Spokane.

BH read December 2015 meeting notes.

HR suggested Michael Martinez works (i.e. essays) may be useful for future meetings.

Martinez blogpost on www.tolkiensociety.org Hobbit films.

HR read from Vinyar Tengwar. Letters of Tolkien vol. 2… was it a hoax? See Tolkien Gateway link. End of vol. 1.

Tolkien Society Survey & Amon Hen poem.

Brandon comments on Tolkien fandom.

Some discussion about RPG.

Amon Hen suitability.

BH to check if there is a link online to Amon Hen questionnaire.

CK started reading Farmer Giles of Ham where we left off. "When Farmer Giles got to court…", followed by Corey, HR, and Brian.

Side discussion of Beowulf, & Tolkien's contribution. Beowulf TV show Beyond the Shield Lands. Mentioned on

FGOH continued. Note on 20 troy pounds & pantechnicon.

Practical nature of Farmer Giles. Sturdiness of the mare; humor of the dragon's attitude.

The reception of Giles into the village of Ham with fanfare.

"Give me your "Give us your crown." Enter Chrysophylax. Will continue next meeting…

Next meeting of Ea Tolkien Society will be on Feb. 13th. We will finish reading Farmer Giles of Ham & Letters of Tolkien next: Letters 106-110.