Eä Tolkien Society February 2016 Meeting Notes
by Hawke —
published

Mar 07, 2016 08:25 AM,
last modified

Mar 12, 2016 01:28 PM
Many thanks to Brian, our Smial Secretary, for this month's meeting notes...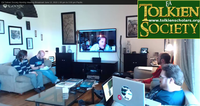 Video of meeting: https://www.youtube.com/watch?v=Pa2qMq9Xf7k
Eä Tolkien Society meeting

Meeting Date & Time: February 13, 2016, 1-3 pm

Meeting Location: Hawke's home and online through Google+ Hangout.

Attended: Hawke, Richard (Chris, Brian, and Corey came
later), and Jeremiah Burns (U.K.) online.

 
1.      Hawke
welcomed guests and went over links for Tolkien Scholars, and read January 2016
notes by smial secretary Brian.

2.      Discussion…
Brian did not follow up on link for Amon Hen survey. Richard made some
follow-up comments of Beowulf: Beyond the
Shield-Lands TV show. Jeremiah's essay has been accepted for publication in
a collection of essays edited by John Ratliffe to honor Verlyn Flieger, a noted
Tolkien scholar. Jeremiah's essay is entitled, "Do Eldar Dream of Immortal
Sheep?"

3.      Hawke
gave overview of past Tolkien Moot videos available online with John D.
Ratliffe.
Links:
Audio & Video:
Audio Only:

4.      Chris
continued reading January notes.

5.      Continued
reading of Tolkien's Farmer Giles of Ham by each member.

6.      Description
of past short works by Tolkien like Turin Turambar and Smith of Wootton Major.

7.      Hawke
read Tolkien Letter 110, as letters 106-109 were previously read. This points
out that most of the riddles in the exchange between Bilbo and Gollum were
original to Tolkien.

8.      Hawke
read Letter 111, addressed to Tolkien's publisher Sir Stanley Unwin. Discussion
of what work JRRT gave to Christopher to do re: writing. Review, map-making,
etc.

9.      Brief
discussion of World War II.

10.   Letter 112 all in Dwarvish runes! Egad! A
postcard of JRRT to Mrs. Katherine Farrer. Richard read the transcribed letter.

11.  Letter
113 was a letter of apology from JRRT to friend Jack Lewis. Everyone took turns
reading it. Much discussion followed regarding the issue between the
friends, and on what other occasions they were divided. It is inspiring to see
the commitment they had to continue mending their friendship, despite such
differences. Here is a list of about 6 "separations" or causes for drifting
away, but which nonetheless they weathered and remained firm friends:
Difference of religion… Catholic & Anglican traditions of Christianity.
The current letter 113 refers to Tolkien having criticized Lewis's work in a meeting of the Inklings; Tolkien feeling that he went too far and hurt Jack, for which he apologized.
Marriage of Lewis to Joy Davidman, a divorced American woman.
Lewis' friendship with Charles Williams.
Use of similar ideas in fiction (Lewis "borrowing" some of Tolkien's ideas which both had mulled… see references to Numenor/eldila in the science fiction trilogy of Lewis vs. Tolkien's unpublished Silmarillion)
When Lewis became a fellow of Cambridge, leaving Oxford behind in 1954 and only returning on weekends and summers.

12.  Hawke
offered a "tidbit" of his recent talk in Portland on the use of role-playing in Therapeutic Recreation, and how it was received, and how Tolkien was covered as part of the presentation and the creation of Role-playing gaming.

13.  We read
a small portion of Michael Martinez's book of essays, Understanding Middle
Earth. Discussed: Middle Earth will forever be gone, in the elves' thinking.
It passes away to their everlasting regret.

14.  Corey
asks whether we should understand that Tolkien's cosmology includes an
apocalyptic renewal. We will follow up next month on this.

15.  Next
meeting will be on Saturday, March 12th, 2016. We will read the next
few letters of Tolkien, but especially his children's story Mr. Bliss. We will
also read a bit more of the Martinez essay. Namárië!